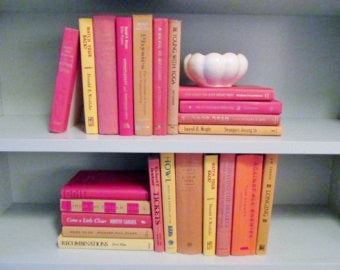 Books By The Foot Box Instant Library Home Interior Design Color Therapy RED ORANGE AUTUMN
BOOKS BY THE FOOT - instant library! This includes 1 foot / 12 inches or slightly more of AUTUMN / FALL MIX - RED, GOLDENROD, YELLOW, and ORANGE book set / lot. Excellent for home and interior retail design, color therapy, home staging or for realtor design, wedding design, theater decoration backdrop or stage props / production, or add a POP OF COLOR to brighten up a room!

These are actual, readable books!

All of our books are standard hardcovers and in very good to excellent shape, and may have mark on top page edge or interior minor marks, or tape marks on sides. Spines on display are clear and bright. Spine color is similar / same as what is pictured, but titles will be different than those pictured in the sample, with subtle fonts, no outrageous titles (unless requested), mostly fiction or neutral non-fiction.

Other colors currently available include:

CREAM / CREME WHITE
PINK
50 SHADES OF GREIGE (light gray and beige mix)
WHITE
BLACK w/ GOLD, SILVER, or RED FOIL,
BLACK MIX
GREEN MIX
SEA GLASS (pale greens and blues)
PURPLE / AUBERGINE
BROWN EARTH TONE MIX
BROWN / SAND MIX
BURGUNDY
CLASSIC (brown and burgundy mix)
GRANITE (dove and dark gray)
POWDER BLUE (palest)
TEAL / BRIGHT BLUE
NAVY BLUE
RED
BLUE MIX
YELLOW
GOLDENROD
ORANGE MIX
AUTUMNAL (hues of yellow, red, and orange)

If books by the foot is not enough, BOOKS BY THE BOX includes approx 2.25 feet of books in a standard copy paper box, for a 2 FOOT set rate (this includes not only the amount in the photo of the books in the box, but books on top of these - enough to pack the entire box)! Choose from a variety of hues, mix and match, and special requests are happily taken - email with requests!

Due to the custom nature of this product, exchanges are permitted instead of returns.
---
We Also Recommend